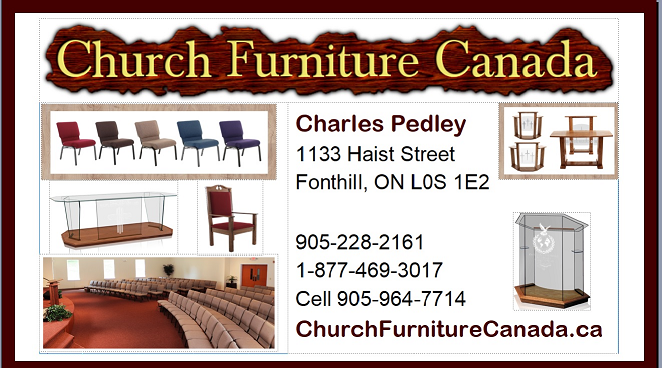 Church Chairs Canada, a division of Church Furniture Canada provides mainly quality, durable, comfortable chairs at discounted prices. We also provide other church furniture especially lecterns, speaker lecterns, podiums, pulpits and other quality church products.
Church Chairs Canada and Church Furniture Canada are owned by Charles G Pedley BA MSEd MUI located in Fonthill, Ontario L0S 1E2.
I have been providing products to churches since 1987. I started because I saw that churches were often being sold products at commercial prices, because there was no available knowledge of companies which specialized in church products.
This often led to being oversold, since the experts were commercial experts and knew the commercial business well, but NOT the church business.
By appointment only you may view our demo chairs to help you decide what you need. We can also send you fabric samples as desired. 
INITIAL CONTACTS should be made by contact page so we can see what you are interested in, who you are, and how you would like us to help you. 
Phone 905-228-2161 or toll-free 1-877-469-3017
Email: charles@churchmart.ca or charles@churchmall.ca